Emergency Lighting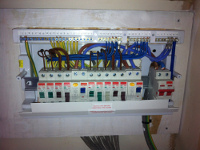 Call us for advice & free quotation on your emergency lighting requirements.
Maintaining a business carries several responsibilities and obligations in which are a necessity to fulfilled by law. The most significant responsibility is the duty of care for staff.
We offer emergency lighting installation throughout Liverpool to ensure staff can exit the property in the unfortunate situation of an emergency when the properties main lighting has failed.
Our team can review your emergency lighting requirements and contribute advice on maintenance, assuring full compliance with British Standards (BS5266). We will construct a solution around your requirements, whether it be a small sequence of emergency lighting for a corridor or large installations of multiple hallways and stairwells.
It is imperative to maintain your emergency lighting installation to guarantee the proper working order in the case of an emergency. Your new facility would require frequent testing and our team will discuss a maintenance plan to suit your requirements.
Call us today for advice and a free quotation.
Our Service Areas