Consumer/Fuse/Circuit Boards in Liverpool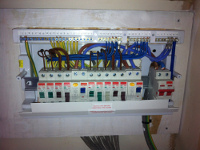 Consumer, Circuit & Fuse Board Installation, Replacement and Repairs. Call us today on: 0151 438 2299.
Consumer units (fuse boards, circuit boards) replacements are necessary for various reasons, including whether you need to upgrade an inconvenient ageing system, require more scope for additional circuits or would like to modernise, allowing your consumer unit installation to satisfy current regulations and protect your commercial or domestic property.
A consumer unit or fuse board can be attained in varying sizes and forms, depending on the space available and your requirements.
James Foy Electrics can provide and advise you on the most suitable consumer unit/fuse board to implement in your installation to ensure your installation is safe, convenient, manageable and compliant.
When upgrading a consumer unit it is also important to obtain that an installation has the correct size earth bonding to the incoming water main and gas meter. Often this information can come as a surprise to a customer. However, with our transparent and helpful approach, we will keep you engaged at all times with all aspects of the fuse board installation/replacement.
We guarantee all our installations will comply with the current 18th addition 3rd amendment and will fully comply with the subsequent 19th addition proceeding from the 01/01/2019. We will provide you with a non-combustible metal clad consumer unit with additional dual RCD protection or RCD protection for each circuit if required. All consumer unit upgrades will be thoroughly tested, and an NICEIC certificate will be submitted and issued on your behalf.
Our Service Areas