Electrical Sockets Installation & Replacement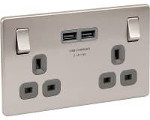 Electrical Sockets Installation, Replacement and Repairs. Call us today on: 0151 438 2299.
Our electricians can replace faulty sockets and repair all problems with existing sockets. If an electrical outlet isn't operating correctly, potentially cracked or broken, we can quickly and precisely have them fixed to ensure your electrics safe again.
Additional sockets can accommodate homes with the option to escape disorderly extension leads and potential trip hazards, furthermore giving more significant protection against tripping and electrical faults. We can attach sockets to discreet locations allowing you to avoid visible cables dangling down from a wall-mounted television or other electrical devices. We also regularly change single sockets to double sockets, increasing the number of electrical points to connect devices to.
Sockets can be adapted to accommodate your recently decorated room, with a variety of colours and styles available. We would be delighted to provide you with a catalogue from our vast range of suppliers and answer any inquiries on the matter. One point we would like to suggest is making use of modern technology that suppliers are implementing in the electrical industry, including USB sockets that are ideal in communal areas to charge mobile phones and other mobile devices our modernised life entails.
Our Service Areas