Electrical Faults & Repair - Liverpool/Merseyside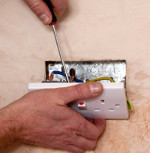 Our specialist teams can repair your electrical faults, whether they be for domestic or commercial premises. If you require our advice and experience, contact us on 0151 438 6480 or contact us online. Please note we do not repair household appliances, such as hoovers and televisions.
Over time, most electrical installations will gradually deteriorate over time. Deterioration is quite natural and usually due to one of the following reasons:
Regular 'wear and tear' through conventional usage
Corrosion over time
Accidental damage, possibly due to circumstance out of your control, such as burst pipes or flood damage
Overloading the circuits
We strongly advise you urgently have such concerns rectified, to avoid a potential fire risk or injury. You will notice these issues potentially from:
Circuit breakers tripping and blowing fuses
Flickering lights in your home or commercial property
Lack of power supply
Smell of burning
Sound of crackling
Despite your electrical fault, our electricians can accommodate all your electrical repair requirements. When our electricians arrive, we will immediately diagnose the issue via visual inspection & electrical testing. With our decades of experience, it is entirely reasonable for our electricians to diagnose your problem and offer a prompt resolution.

After the investigation, our electricians will repair or replace defective components and ensure proper operating conditions afterwards. We would, of course, discuss costings beforehand.

As a company, we strive to provide our customers with prompt service and outstanding workmanship, including quality materials. Contact us today for a quotation - our dedicated office staff will be delighted to assist you.
Our Service Areas