Electrical Inspection Certificate & PAT Testing in Liverpool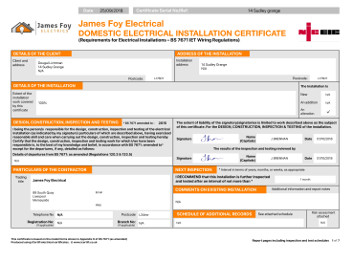 PAT Testing, EICR & PIR Testing in Liverpool. Call us today on 0151 438 2299 to arrange your electrical testing & compliance certification.
Our electrical inspection and testing service cover many aspects of PAT testing, annual/periodic electrical inspection, full visual inspection or the issuing to the issuing of landlord electrical safety certificate. All our electricians are qualified to perform electricals installation condition report inspection and testing. James Foy Electrics are NICEIC Certified.
PAT Testing (Portable Appliance Testing)
PAT testing is the examination of all electrical appliances/equipment to ensure users safety. The vast majority of electrical malfunctions will be found via visual inspection. However, some appliances require further testing. The Electricity at Work Regulations (1989) enforces all electrical equipment which can cause harm must be maintained to a safe level.
Electrical that would require testing include computers, kettles, fans and microwaves. Primarily, this consists of any device with a power lead and plug, intended to be powered through an electrical main.
PAT Testing follows a set procedure, which follows:
A visual inspection of the appliance will be completed, including an examination of the flex and plug. It is common for these to show damage.
Each plug will be inspected to ensure the fuse and all connections are correctly configured
Various electrical tests will be completed (e.g insulation test)
A specified label (you will have seen these of many appliances) will be assigned to the appliance documenting various information. It will document whether the appliance has successfully passed or failed. It will also include the test date and a re-testing date.
Information about each appliance which has been inspected and tested. All this information will be compiled into a report.
A PAT Testing certificate and report will be presented and issued by ourselves.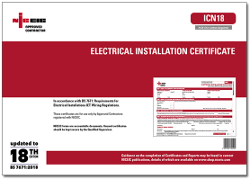 Visual Inspections
Visual inspections include us visually inspecting the current state of the electrical installation. An investigation is essential when considering purchasing a new home. The team will examine the installation and report back with a detailed explanation of its current state and required work to declare it up to standard. Often, these inspections can help during negotiations when buying/selling a home.
EICR (Electrical Installation Condition Report)
EICR (Electrical Installation Condition Report) which was previously named a PIR (Periodic Inspection Report) is a report documenting the condition and standards of the mains electrical installation of property. It is designed to identify dangerous faults, defects and safety issues according to the BS7671 electrical regulation.
EICR Procedures
During the completion of an EICR, the properties mains electrical supply will be required to be disconnected. The size of the property will undoubtedly reflect the amount of the time the mains power is disconnected, including the length of time the report will take to complete.
The mains power must be disconnected to ensure electricians and others safety. This also permits us to complete the essential tests to the electrical circuits. We appreciate this can be quite an inconvenience, but it is critical.
Visual Inspections
Before any electrical testing is conducted, a visual inspection will be undertaken at the property. The inspection will identify any significant issues, such as overloading or overheating problems. It will also identify areas of the installation that is in poor condition.
Dead Electrical Testing
Dead Electrical tests are undertaken with the mains power disconnected. Testing comprises of Continuity Testing, Earthing Arrangement Testing, Polarity Testing and Insulation Resistance Testing.
Live Electrical Testing
Of course, these tests are conducted with the mains power connected. The live testing includes Earth fault loop testing & RCD testing.
Your Final EICR Report
There is a range of codes which reflect whether the electrical installation is compliant with current regulations. These are labelled C1 to C3. You will see these identifiers on the EICR including any descriptions of faults. This will lead to the report being either 'Satisfactory' or 'Unsatisfactory'.
C1 - 'Dangerous' - A risk of injury exists and immediate repairs are required.
C2 - 'Potentially Dangerous' - Urgent work is required
C3 - 'Improvement recommended' - Improvements could be implemented.
If 'Unsatisfactory' we will document and explain the work which would be required to bring into a 'Satisfactory' condition.
Our expert teams can repair your electrical faults, whether they be domestic or commercial. If you require our advice and experience, contact us on 0151 438 2299 or contact us online.
Our Service Areas
---
Frequently Asked Questions - EICR (Electrical Installation Condition Report)
Q: I'm confused; please help - EICR, Electrical Condition Report, Electrical Installation Condition Report, Periodic Inspection Report, Electrical Safety Report, Electrical Survey Report, Electrical Certificate, Domestic Electrical Report - these are just a few names I have heard! What do I need?
Yes, it can be quite confusing for someone not in the industry. Mostly, these are pretty much the same thing - just worded slightly differently depending on the circumstances it's referenced. For example, landlords may call it a periodic electrical report or a homeowner may call it an EICR (Electrical Installation Condition Report). If you're still confused on what your legal obligations maybe, give us a call - we will quickly be able to identify what you need.
Q: How much does one of these reports cost?
Commonly, in Liverpool/Merseyside we complete the certificate for the majority of properties for £175 ex. VAT. This will include a digital report emailed to yourself via a PDF. We will also store this report digitally for you, should you ever lose the digital copy. Of course, if you reside in a seven-bedroom home, the cost would be higher. It is generally best calling us to get accurate pricing.
Q: How long does the report take to do?
An electrician will be on site for between 1/2 a day and one full day. It then generally takes 1-2 hours for the report to be generated and emailed.
Q: Can the certificate fail?
Yes. If the installation is not to a standard it will fail. This is a legal duty on our behalf.
Q: As a landlord, must I have an inspection certificate?
Being a landlord is a role with responsibility. It is your legal obligation to ensure all electrical equipment in your property is safe and maintained during the entire tenancy. This responsibility covers lighting, plug sockets, as well as internal wiring.
An electrical installation includes all fixed electrical equipment that is supplied through your property's electricity meter. Electrical installations face wear and tear, thus must be correctly maintained.
Failure to meet these obligations allows you to face prosecution and also invalidates the majority of landlord insurance policies. For the safety of your tenants, your reputation and your business, it is imperative to get regular electrical safety certification and thorough inspection.
Q: As a landlord, how long do the periodic electrical condition reports remain valid for?
Generally 5 years if a rental. 10 years for a domestic home owner (not using the property as a rental). The governments website has further information.
Q: What will the electrical inspection report potentially identify?
Identify if any electrical circuitry or equipment is overloaded.
Discover any potential electrical shock hazards, including fire hazards.
Identify any faulty or incomplete electrical work.
Document lack of earthing or bonding as necessary.
Through tests are also conducted on wiring and fixed electrical equipment to check that they are safe. A schedule of circuits will be documented for future reference.
Frequently Asked Questions - PAT Testing
Q: What is the minimum amount of items?
When our customers require a small number of items PAT testing (for example, musicians) we generally charge our hourly rates. For much larger numbers, for example, 2000 items, we would provide you with a fixed quotation.
We are happy PAT testing a single item, but you would be required to pay the full hourly cost.